FOR SALE ON BEHALF OF A FRIEND:
SUNRAY SHEER DELIGHT (AASB) 2007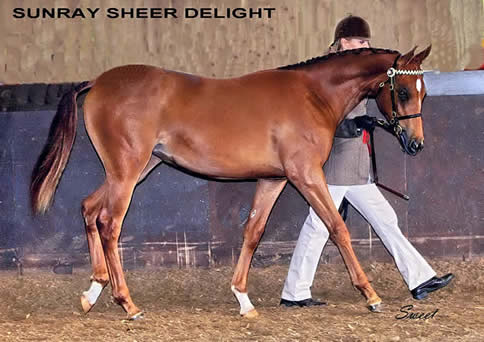 Grace as yearling at Midlands AHS 1st and Reserve Champion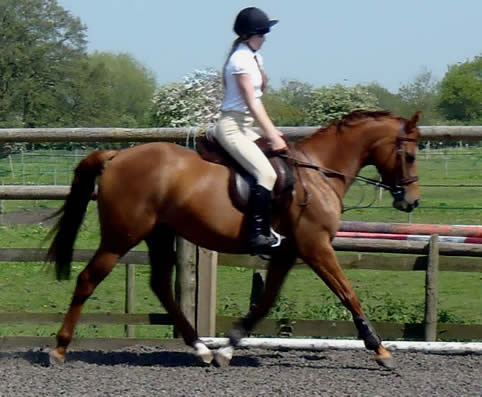 G
Grace aged 5 yrs recently started under saddle proving very easy and a
lovely smooth ride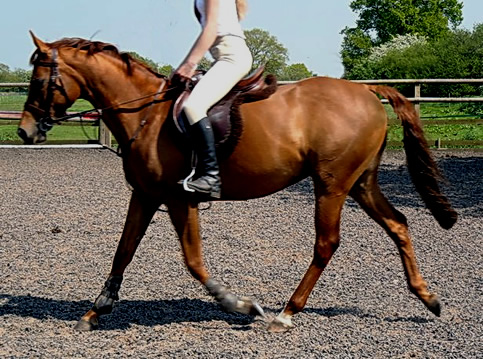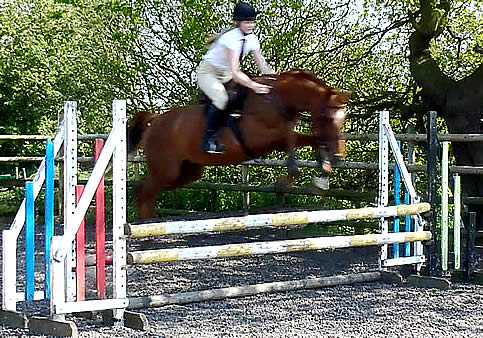 Below is a recent pic of Grace such an easy uncomplicated
ride and a very genuine mare in every way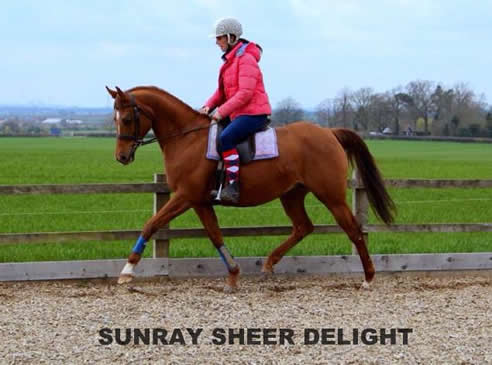 The above 15.00hh Anglo Arab Mare 8yrs old
(Sunray Saristocrat AASB/ Sunray Sheer Silk GSB)
Purchased from us as weaned foal and with same owner since.
Sadly now for sale as four young children and business to run
leave no time for her owner to give Grace the chance to go out
and prove her excellent show/performance breeding.
Ideal for Mother/Daughter home production Grace has a most wonderful
temperament always tries to please Hacks out alone or in company happy
to go first or last. Bred a super filly foal 2014 now back under saddle and
looking for her forever home.
Totally sound, without vice and unblemished. Five * home is a must.
£3000
Contact: 07501-290347 or 012135 82344 for more info
FOR SALE:
Full Blood sister to the above mare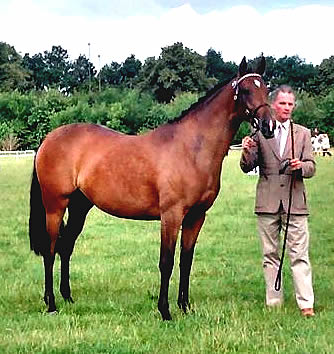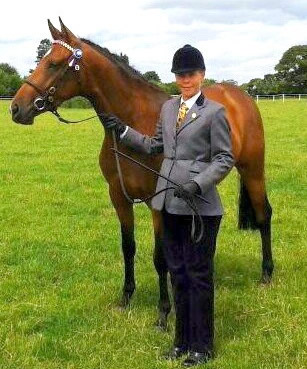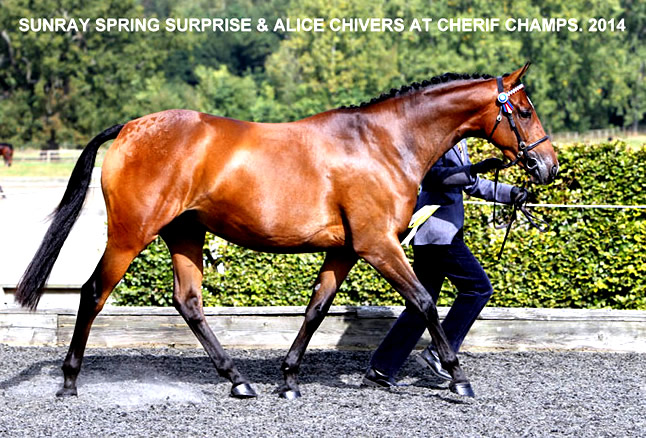 Poppy is our homebred Anglo mare and full blood sister to the chestnut mare
above. Shown lightly as a 3yr old only, gaining 4x firsts Championship and Sup
Champioinships and 3rd at Cherif Champs. A totally easy mare in every way
has been tacked up and sat on..no problem Photos shown completely off grass
Sadly for sale as no rider and as we are retired now, she is just too beautiful to
be a field ornament. Totally genuine with fab temperament and easy to do.
Tel: 012135 82344 for further info
HHFOS

HORSES/PONIES PREVIOUSLY SOLD

FOR
-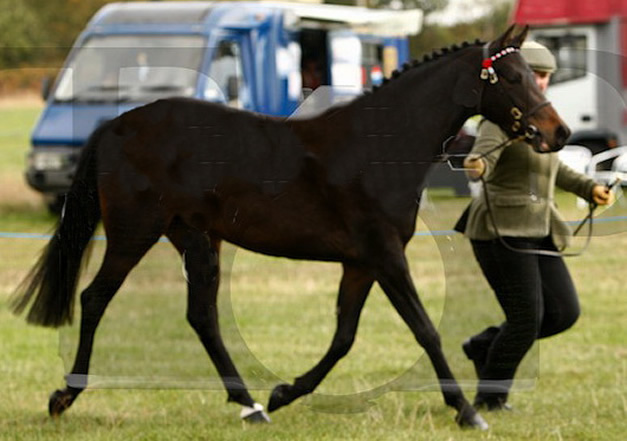 ROYAL TOTTY 14HH SHOW HUNTER PONY/PBA 3YRS
Totty is a super homebred pony with excellent temperament
and only for sale as no jocky. Easy to do in every way and
should excel under saddle. Will be fully up to height.
Regrettable sale to knowledgeable caring home
TOTTIE HAS NOW BEEN SOLD TO A SUPER HOME
GOOD LUCK KATY AND SOPHIE
FANTASTIC OPPORTUNITY:
ARE YOU LOOKING FOR A 16.00HH PART BRED ARAB HOMEBRED MAHOGANY BAY GELDING SIRED BY BNC SUNRAY SCELEBRITY (AASB) DAM IS A PART BRED ARAB/PART BRED WELSH`D` COB
JACK IS NOW A 5YR OLD ( SAME OWNER SINCE WEANLING) AND HAS BEEN CAREFULLY BROKEN, HACKING OUT AND UNPHASED BY ALL HE HAS SEEN. FULL BLOOD SIBLING TO SUCCESSFUL BSJA SHOWJUMPERS/DRESSAGE/SHOW HORSES. FAB TEMPERAMENT, EXCELLENT PACES ,EASY IN EVERY WAY. OWNER NO TIME TO RIDE AS TOTALLY INTO DOG AGILITY NOW AND THIS SPECIAL HORSE IS WASTING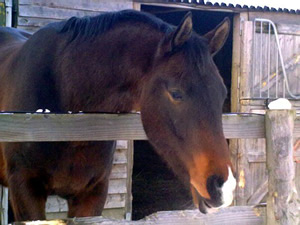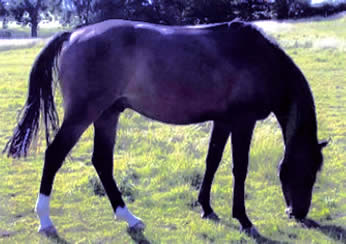 ELMDALE EXHIBITIONIST JANUARY 2010 (IN WINTER WOOLLIES) ELMDALE EXHIBITIONIST APRIL 2010
photos only taken with camera phone, so not very good but give an idea of his make and shape
ONLY JUST BEEN ADVISED HE IS FOR SALE ( 31.05.2010) FOR FULL DETAILS AND MORE PICS CONTACT ME ON
0121 358 2344 OR 07501 290347
SOLD TO THE FIRST PERSON TO SEE & RIDE!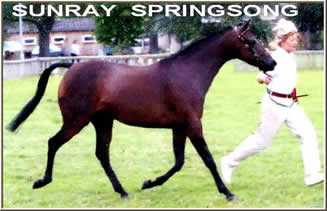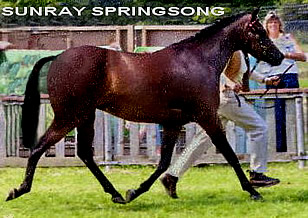 PURDIE IS HOMEBRED 138cm Registered Part Bred and BRPSB Regd. She has a sweet temperament, is excellent
with other horses and foals in the paddocks. Good when stabled but happily lives out all year round, rugged in Winter
with feed and hay/haylage. Has only ever been shown once, at AHS Nationals Malvern (pics above) and won the PBA
Brood Mare Class She is the dam of 148cm British National Champion SIMPLY PRECIOUS in 2004
Her Dam is Multi BNC SUNRFAY SENSATION (AASB) and her sire BNC ROYAL LINSIGN (PBAR) We had expected a
small show hack and as Purdie was so small, we are not interested in breeding ponies, so sold Purdie to a close friend .
Her first foal sired by 14hh stallion, matured at 14.2hh and it is likely put to a small Thoroughbred, Purdie could
produce small hacks. She has bred four foals, before we re-purchased her, shortly after weaning her 2009 foal
We are happy to keep Purdie but she would be totally wasted. An opportunity for a new stud looking for a proven
Top Class Riding Pony Brood Mare or, if started under saddle, an ideal Cherif contender
Her full Pedigree can be viewed on All Breed Pedigree and below are pics of her Sire and Dam and also her BNC
mare A forever home is a priority and more important than price. Please colntact Babs on 01213 582344 for
more detailed information
SHE HAS NOW FOUND HER FOREVER HOME. LOOK OUT FOR HER AT THE SHOWS. 2011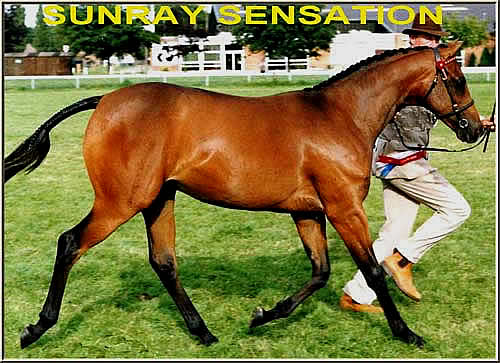 Purdies Dam: SUNRAY SENSATION 158cm (BNC Somerset Morn AASB/BNC Karitzi AASB)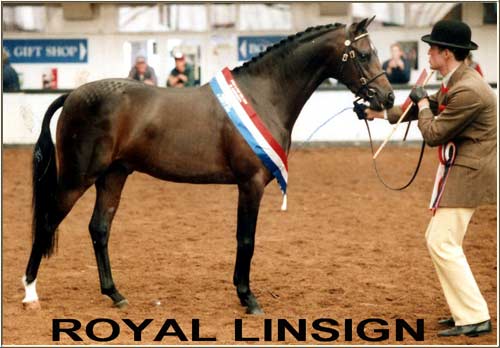 Purdies Sire: ROYAL LINSIGN 146CM (Royal Ensign AASB/Forge Lindy Hop PBA)
This is Purdie (Sunray Springsong) Summer 2009 and below
her first foal SIMPLY PRECIOUS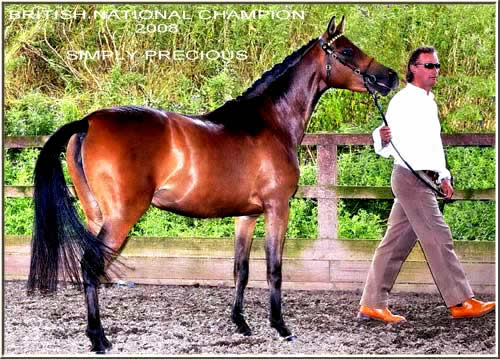 Purdie`s 148cm daughter BNC SIMPLY PRECIOUS Sire: ROYAL COMMAND OF WENTWARD
3YR OLD COLT FOR SALE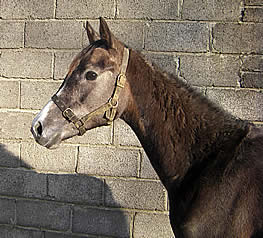 Anglo Arab colt Sire:- CANTO (Imad/Carillion) Dam:- MARBON BOQUET AASB(Marbon Maestro/Beychevelle)
who is half-sister to Marbon Beaujolais (AHS Premium Stallion)
Will mature to 15-15.2hh . Lovely long low ground covering action. Well Handled and excellent temperament
Likely to make super show/performance horse. Imad HOYS winner Ridden Arabian and AHS Premium Stallion
His Owner/Breeder is Looking for a caring knowledgeable home where he will be given his chance to prove his excellent bloodlines
Please contact 07501 290347 the first instant
FOR SALE: SOLD SOLD

ANGLO ARAB MARE
SUNRAY SCINTILLATION 4 YRS.
PHOTO TAKEN FEBRUARY 2007

Crystal is very regrettably for sale as she has not grown big enough for her tall owner. She has a superb temperament, has been easy to start under saddle, proving a calm and sensible ride. She shows talent over a fence and has excellent paces. Her Sire is International Three Day FEI Eventer Tunes of Glory by Poetic Justice. Her Dam is our very beautiful Double British National Champion Sunray Sensation (Somerset Morn/Karitzi). Crystal is 153cm and will make an all round Show/Dressage/Junior Eventer. Now ready to further her education with a kind and experienced owner. She is very reasonable priced to the right home

.

SOLD

SOLD... SOLD

PART BRED ARAB GELDING SUNSEEKER OF WILDMORE


PHOTO OPPOSITE TAKEN AS 5YEAR OLD STALLION

This homebred gelding has been lightly shown with success. His Sire is Br.Nat.Ch. Sunray Scelebrity and his dam a 148cm Riding Pony by Celtic Ballad. He is now eight years old and is currently being started under saddle. Very sadly for sale as his owner does not have a rider and he is totally wasted. 5* home where he will be given his chance to prove himself in a variety of ridden classes. He is full up 154cm and the pic does not do justice to him. Accordingly priced as he is a late starter. Excellent Temperament.

Pic below taken at Sunray Stud 9th May 2008 aged 9 yrs
FOR SALE: SOLD SOLD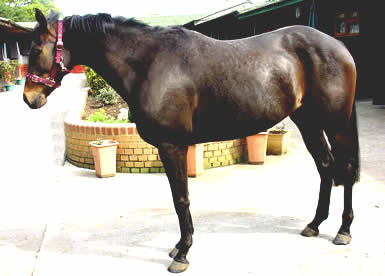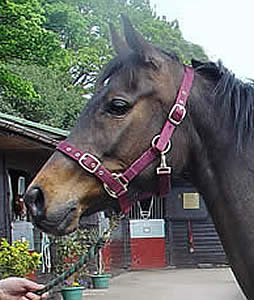 Registered Part Bred Arab Mare sired by Sunray Scelebrity Dam of above gelding, grand-dam to this mare. Dam is
sired by Dutch Warmblood Stallion. This mare has a very laid back temperament, has been professionally started
under saddle last year proving very sensible. Has since been turned away and the above pics are taken straight off
grass and is only for sale as no rider. Expressive paces.....Cherif ISRT and Hack potential Full up 154cm 7yrs old
FOR SALE... TOP CLASS COLT.....SMALL HACK.ISRT/CHERIF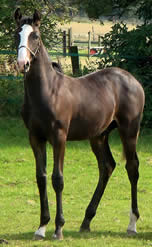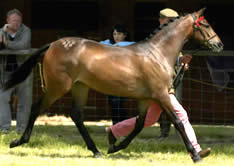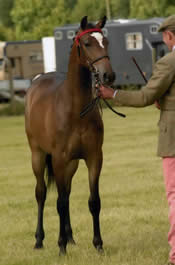 Yearling Colt for sale.. Full Blood Petite Etoille...........Small Hack Filly Threequarter Blood sister to
Brother to filly opposite Multi Supreme Ridden Champion & Br.Nat.Ch. APRES NOUS ..(see
Excellent paces. Pic at six months the horses page for more pics)....... This filly already a winner and
Champion in Hack and PBA classes at the Major Shows 2008
EXPERIENCED SHOW HOME A
MUST FOR THIS OUTSTANDING PETITE ETOILLE IS FOR SALE
COLT...PRICE ON APPLICATION TO EXPERIENCED SHOWING HOME ONLY
SPECIAL HOME IS URGENTLY REQUIRED:
FOR THIS TOTALLY WASTED BOY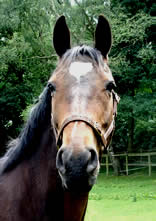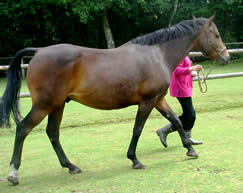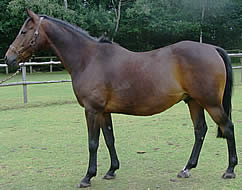 Elliot (Dincara Dan Dare) is a homebred 12yr old Registered PBA gelding who is just longing to be given the chance
to prove himself a versatile competition horse..... He was professionally started under saddle and won two ridden
classes at first outings. Unfortunately, since then.............business and family committments have left no time to
continue his education, and he has spent several years doing absolutely NOTHING!! A new baby on the way now
regrettably forces the sale of this much loved horse.... Elliot has a fantastic temperament is bold and affectionate
and needs an experienced knowledgeable owner to share his life. Pics taken 08.07.08 straight off grass.His proven
performance pedigree should make him a good all round prospect. Sire: Multi B.N.C. Sunray Scelebrity (AASB)
Dam: Necta Elegance A good home and £2,300 SOLD
PART BRED ARAB OAKHAYES LORD OF THE DANCE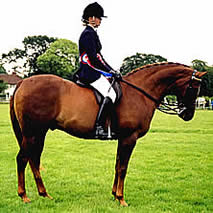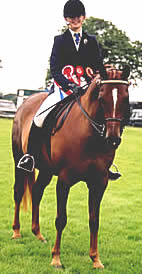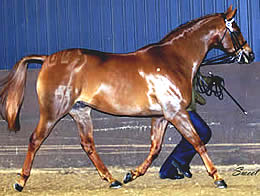 After five happy and very successful years, very sadly Jessica has now outgrown Jasper (OAKHAYES LORD OF
THE DANCE) and is looking for a 5* knowledgeable family home where he may continue his career.
His successes are too numerous too list in Cherif/Hack/ISRT etc.,etc and he is a Res. British National Champion
and a big winner of Championships in both Ridden and In-Hand classes at Major and Championships Shows.
Jasper is 15.2hh and sired by BNC & Premium Performance Sire Sunray Scelebrity.
He has an excellent temperament and a lot of character and has been totally home produced and ridden by his
amateur owner, since Jessica was 14years old. Sound, unblemished and without vice.....
STOP PRESS!!!.....Congratulations Jessica and Oakhays Lord of the Dance .....standing 2ND to
the eventual Overall Res.Supreme Show Champion at the 2007 Cherif Championships...Well Done
also for gaining the Best Amateur and Best Newcomer award
2008......FIRST TWO OUTINGS...Champion Ridden and Cherif qualified and at Midlands AHS Show
Res. Champion In-Hand and Res. Ridden Champion
RIDDEN CHAMPION WESSEX AHS
MIDLANDS ARABIAN FESTIVAL RES. RIDDEN CHAMP RES.IN HAND CHAMP
As Jasper continues to go from strength to strength, and as we would be unable to replace him,.......... HE IS NO
LONGER FOR SALE !!
ANGLO ARAB GELDING ROSELLA RIOGRANDE
Rio at BNFOY 2003 Res.Ch. Hack In Winter woollies Feb. 2006 Just backed July 2007
Homebred four year old Rio (Sunray Superior/Sunray Schantilly) has a fabulous temperament, excellent paces and
has proved very easy to start under saddle, being calm and very sensible with a good attritude to all that is asked
of him.Very regretful sale of this charming young horse as he has not grown tall enough for his owner/breeder and
will therefore be wasted. A late foal, he now stands a full 14.3hh and should grow to 15hh. A five star family home
is a must for this much loved boy........... £3250
SOLD
FOR SALE : PBA/PBW/BRPSB 3 yr old gelding TO MAKE A 14HH SHOW HUNTER PONY
CHAPELMILL CHOIRBOY Pic taken at 5 weeks old

WELL, LOOK AT ME NOW....3YRS OLD MY FIRST SHOW!!

WON THE OPEN BREED YOUNGSTOCK, 2ND IN ARAB/PBA OPEN IN HAND....HAD A GREAT DAY!! Judge: Mr D Payne

(NPS list Judge) 18.05.2010

standing 13.3hh now so likely to make a 14.00hh show hunter pony.

SUNRAY SPRINGSONG

This very attractive gelding born mid July 2007 has the most charming temperament, oozes presence and has outstanding limbs with excellent paces. He has his Dam`s huge eye, good front and is well put together

A very smart young man who looks likely to have a successful in hand and ridden showing future ahead of him.

He is registered in BRPSB/PBWR eligible PBAR and a knowledgeable home is required to give him the chance to prove himself

CHOIRBOY IN PART BRED ARAB CLASS 18.05.2010

£1500 o.v.n.o. for this handsome lad!!

SOLD SOLD

Chapelmill Choirboy`s Dam Sunray Springsong is a 138cm BRPSB/PBAR mare sired by Multi Supreme and BNC Royal Linsign (PBAR/BRPSB) out of Multi BNC Sunray Sensation (AASB) by BNC Somerset Morn (AASB) and out of BNC Karitzi (AASB) Both parents being A.H.S Premium breeding atock

Pic of Springsong winning her 148cm and under Brood Mare class at Arab National Championships 2004

Though only small herself, Springsong`s first foal sired by a 146cm stallion has matured full up 148cm so it is likely she could produce small hacks to TB stallion

Springsong is 97% Anglo Arab and has big breeding in her pedigree
.