A MULTI-BRITISH NATIONAL CHAMPION & A.H.S LIFE PREMIUM PERFORMANCE SIRE. PERFORMANCE BRED ON BOTH SIDES OF HIS PEDIGREE & A PROVEN SIRE OF AFFILIATED SHOW / DRESSAGE / EVENT / ENDURANCE & B.S.J.A OFFSPRING.

Scelebrity's youngstock have proved hard to beat in breed classes at Major Show level and have gone on to make excellent Competition Horses in all spheres of equestrianism.

Scelebrity stamps his stock with his own wonderful temperament and excellent conformation, all having good limbs and action.

Scelebrity is also a proven sire of top class Brood Mares whom themselves are breeding their own Champions, particularly when crossed back to our junior stallion Sunray Saristocrat (scroll down to see his details).
ALL SCELEBITY`S PROGENY ELIBIBLE FOR REGISTRATION IN THE AHS ANGLO ARAB STUD BOOK OR PART BRED ARAB REGISTER
CHILLED & FRESH SEMEN FOR A.I.
STOP PRESS..................
ROYAL LONDON SHOW 2007:
ROYAL EXTRAVAGANZER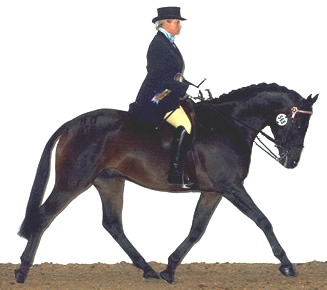 Champion Anglo Arab/ Hack (by Scelebrity) Qualified for the Finals and gained 2nd in Hack and 3rd in Anglo/PBA. WELL DONE!!
This very successful gelding is full blood brother
to Lynlane Lyrical, a proven top class Show Horse, who has successfully proved an excellent all round
competition horse in eventing, dressage and show
jumping (See third pic from right - below)
Scelebrity continues to sire all round offspring
He is now 23 years young.......more of his stock
below and on `the horses` page of our website