WELCOME TO THE WEST MIDLANDS
ARABIAN FESTIVAL SHOWS 2011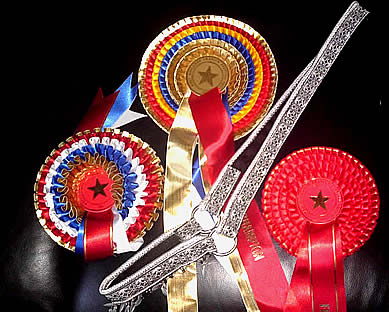 Introducing an entirely new concept which has six consecutive monthly Shows from
May - September 2011 and culminating in an end of the Season All Championship Show, exclusively for Pure, Anglo and Part Bred Arabian Horses and Ponies
The Shows are aimed to encourage the Amatuer Owner/Breeder/Exhibitor/Home Produced
Arab, Anglo Arab and Part Bred Arab Horses and Ponies to compete and ensure this new venture will be a huge success, which may then be repeated by other organisations
Below is our downloadable Formal Schedule and Entry Form
Please ensure entry form fully completed, signed and dated
*******DIFFERENT JUDGES SELECTED FOR EACH SHOW*******
THIS SHOW IS A QUALIFIER FOR:
BRITISH AMATEUR HOME PRODUCED ARABIAN CHAMPIONSHIPS
to be held on September 17th. 2011 at Bromyard, Worcs.
PLEASE NOTE CHANGE ON DATE FOR SHOWS
Entries taken on the day £2 extra per class
W.M.A.F. CHAMPIONSHIPS SHOW ** 02.10.2011**
JUDGES: IN HAND: ALEC KNOTT RING STEWARD: ADELE DOXEY
RIDDEN: CLARE DOXEY RING STEWARD: TIM JONES
POSTAL ENTRIES FOR CHAMPIONSHIP CLASSES 25-36
ENTRIES CLOSE 20..09.2011
AT THE CHAMPIONSHIP SHOW, RED RING AND BLUE RING CLASSES
(1-24) WILL RUN AS NORMAL COMMENCING 10.30AM
1st, 2nd & 3rd Prizewinners from classes 1-24 on October 2nd., will be eligible to enter the Championshionships classes 25-36
providing they are Members or pay the Membership Fee and entry fee on the day
CHAMPIONSHIPS CLASSES 25-36 WILL CONTINUE UPON COMPLETION
OF CLASSES 1-24
ALL ENTRIES IN THE CHAMPIONSHIPS CLASSES 25-36 WILL RECEIVE
SPECIAL "FINALIST" ROSETTES
WEST MIDLANDS ARABIAN FESTIVAL SHOWS
WELCOME TO THE WEST MIDLANDS ARABIAN FESTIVAL SHOW
THIS SHOW IS A QUALIFIER FOR B.A.H.P.A.C.
W.M.A.F. CHAMPIONSHIPS SHOW SCHEDULE 02.10.2011
SUNDAY 02.10.2011
POSTAL ENTRIES CLOSE 20TH SEPTEMBER
ENTRIES TAKEN ON THE DAY £2.00 EXTRA
ENTRY FORM CHAMPIONSHIP SHOW 02.10.2011
PLEASE ENSURE THAT YOU DOWNLOAD AND COMPLETE, SIGN AND DATE ENTRY FORM IF ENTERING ON THE SHOWDAY, AS WE CANNOT ACCEPT ENTRIES WITHOUT SAME
THE SHOWN NEEDS YOUR HELP SO PLEASE SUPPORT US
WE NEED AT LEAST A TEAM OF TEN STEWARDS TO ENSURE THE SMOOTH RUNNING OF THE SHOW
IF YOU WOULD LIKE TO BECOME PART OF OUR SHOWTEAM AND ABLE TO VOLUNTEER
YOUR TIME AND ENERGY TO HELP US ENSURE OUR NEW SHOW WILL BE A WELCOME VENTURE
PLEASE CONTACT BABS ON O121 358 2344 OR: 07501 290347
THANKYOU
.